Metal Mezzanine Floor Steel Platform
Product Description
Product Name

Strong load capacity steel structure platform, durable pallet rack supported mezzanine floor

Material

High Quality Cold-rolled Steel

Size

Customized

Color

Customized(Regular colors are orange, blue and silver grey)

Remarks

Different color, sizes, layers, and thickness of material are available.

Quality Control is 100% checked for 8 times

Accepted ODM or OEM .
Steel platform is one kind of mezzanine, with flat roof on the top, suiting for big products. Round pipe and square pipe are often used to make upright. Main and secondary beams are often made of H steel.This Warehouse Steel Platform is built with heavy-duty steel column and H-shaped steel structures, providing further load capacity. Distance between columns can be increased.It can be assembled and not need to weld on the site. Different design can be provided in line with the loading capacity by selecting different material specification. It is of high intense and widely utilized, it can both store the goods and can be as office.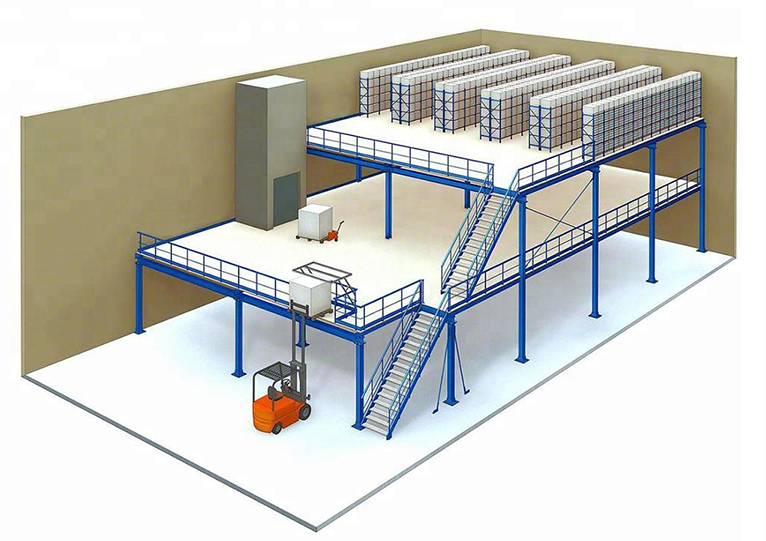 Steel Platform is made up of column, main beam, secondary-beam, steel flooring, staircase, handrail, horizontal bracing, back bracing, connecting plate and some accessories.
1) High durable strength steel
2) RAL color code/Galvanized both available
3) Adjusted by 50mm/50.8mm/75mm/76.2mm
4) Rigid beam connectors
5) Automatic welding machines
6) High grade bolts & nuts
7) Certification: RMI/CE/ISO/TUV/AS4084-2012